Bobby DiCello
DiCello Levitt
---
Bobby DiCello's practice encompasses locally and nationally significant cases across a broad range of topics with a focus on restoring the human dignity stolen by civil rights abuses, catastrophic injuries, defective products, and corporate misconduct.
The trial of Officer Derek Chauvin for George Floyd's murder was the most anticipated civil rights trial in recent history. When ABC News Live decided to cover the trial and produce the series "The Death of George Floyd – Derek Chauvin on Trial," they realized that they needed an authority on high-profile trials to analyze and comment on the Floyd trial. Anticipating a national and international audience, ABC called on Bobby to give his opinions on the case. Between focus group preparation for a major pharmaceutical trial and research into the psychology of modern jurors, Bobby made himself available for weeks of real-time commentary and insight into the decisions of the lawyers and presiding judge.
Before and since his most recent national recognition as a trial expert, Bobby has been a force in the trial bar. He has obtained record verdicts in cases thought unwinnable, while, at the same time, leading cutting-edge research into juror decision-making in the politically polarized jury system. Bobby has successfully tried, as a first-chair trial lawyer, catastrophic injury and death cases, civil rights cases, medical malpractice cases, mass tort bellwether cases, qui tam cases, and financial services, as well as major felony prosecutions, major criminal defense actions, and a variety of other cases that have branded him as one of the nation's best modern day trial lawyers.
In 2021, Public Justice awarded Bobby its prestigious Trial Lawyer of the Year award for his work in the landmark Black v. Hicks police brutality and corruption case in the City of East Cleveland, Ohio. Public Justice presents this annual award to attorneys who promote the public interest by trying a precedent setting, socially significant case. Bobby tried the Black case to a jury that awarded Mr. Black a record $50 million—a verdict that has since been sustained up to the United States Supreme Court.
Bobby has also been recognized twice as an "agent of change" by The National Law Journal in its annual list of Plaintiffs' Lawyers Trailblazers, an honor rarely bestowed even once in a lawyer's career.
Having taught trial lawyers across the country, Bobby is also known for his dedication to improving the art of trial practice. Bobby is routinely asked to assist lawyers from across the United States on their cases. He consults on all aspects of trial preparation and motion practice, including theme building, case framing, case messaging, and the creation of visuals for courtroom presentation and exhibits. He develops his approach through DiCello Levitt's Trial Center, where he leads focus groups, mock trials, and jury decision-making research. Bobby's work sets DiCello Levitt apart as a truly rare law firm: a plaintiffs' firm with an in-house focus group and mock trial practice that creates powerful presentations and—most importantly for our clients—meaningful verdicts.
Throughout his work, Bobby maintains a singular focus: to teach juries about the value of each of his clients and to encourage a verdict that publicly recognizes their dignity.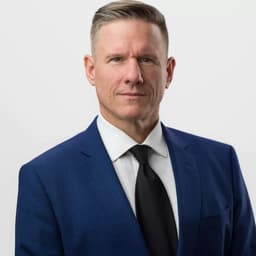 Lecture coming soon